MY 2021 TABLE
I already know what you are thinking MY TABLE 2021 in April, punctual as always with just a 15 - 20 minute delay as my friends would say...
True, nothing new, everyone knows that the company Pantone has elected the colours Ultimate Gray and Yellow Illuminating for the year 2021. Still, only  a few knows why. The combination of these two independent colours is designed to show that different elements come together to support each other. The union is concrete and solid but at the same time warm and optimistic. A colour story that encompasses a deeper sense of caring, with the promise of something sunny and lovable to come.
And so MY 2021 TABLE wants to be a promoter of a positive message that never hurts. Speaking of positive, this time I have chosen a venue that I particularly love; a house that exudes love and friendship. A place for gathering, aggregation and great pre-Covid laughs. The location is my dear friend Francesca's home. When I created the mood board for MY 2021 TABLE I immediately thought about her and how her house makes me feel...
For the tablecloth I chose a dark flint-coloured pure linen background, contrasting with mustard napkins, all selected from the infinite varieties of linen in Preludio Rental's catalogue.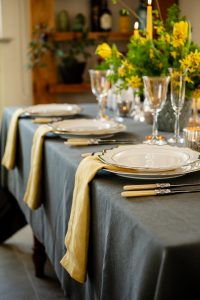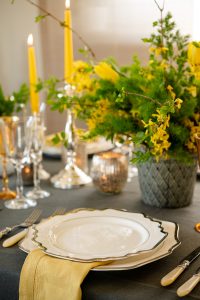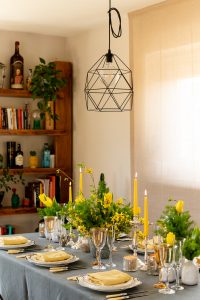 Mise en Place
For the mise en place I have chosen: white Royal model plates with silver thread decoration with modern lines, matched with the Romantic model glasses, with the inclusion of the Amber coloured goblet (which would be for water but given my path with the Accademia Italiana del Galateo, I can take some poetic licence and use them for white wine. For comments or complaints there is a box here at the end!). I chose this combination to give a modern and warm effect at the same time.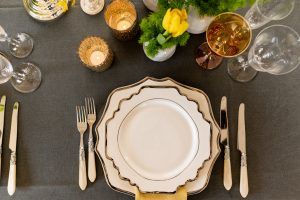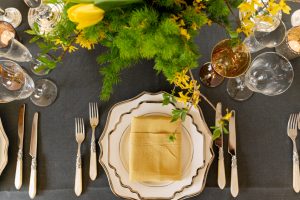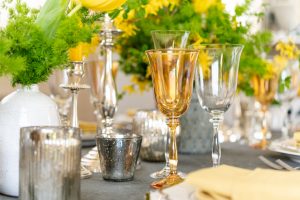 The Table Centre
For the flowers, the choice fell on tulips, one of my favourites. I feel joy just by looking at them. The colours are always sharp, intense and centred. I decided to match them with flowers found in the grove near home. Don't worry, before you comment... 'Found in the grove near home', obviously not by me since the last time I was in the woods I hugged a tree while running, so I would say these are places to avoid for me, there are too dangerous. To bring out the yellow colour of the tulips I used the green of the "asparagina". Now don't ask me the real name of this plant! I have no clue about it but when in Arezzo you can easily ask the florist for some "asparagina". If, on the other hand, you are far away or out of the region (I feel sorry for you!), you can use the photo and the classic phrase 'I want this one!' by pointing it in your phone or inviting your trusted florist to follow me! The vases and accessories are from Flowers Living, they always manage to read my mind and find the right thing for my tables in their stock.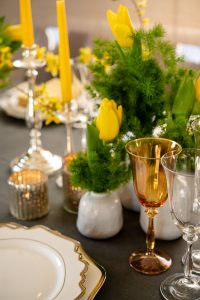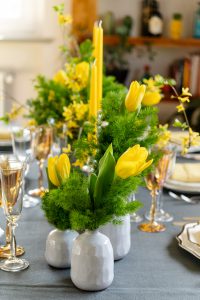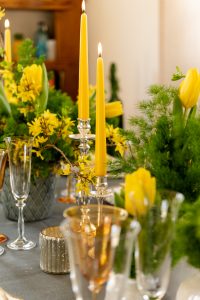 To Finish
One thing that can never be missing on my tables are candles. I love them, they create atmosphere and complete the whole setting, like a tie under a nice suit. Silver candelabras by Preludio and yellow candles. To make sure I didn't miss anything, I got the order wrong and am now ready to provide the next Easter Stations of the Cross....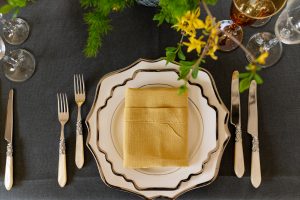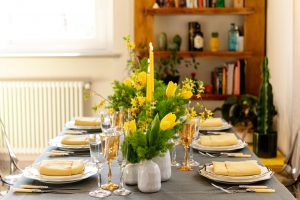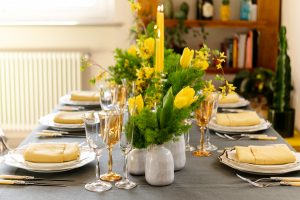 While I await your comments and curiosities, i would like to list the partners who, as always, helped me realise MY TABLE 2021.
Photo: Lucrezia Senserini

Mise en Place and Table Linens: Prelude Rental
Accessories: Flowers Living
Location: Francesca and Riccardo