GIA' CONSEGNATE LE PARTECIPAZIONI??? 
Hai Già Consegnato le partecipazioni a parenti ed amici ma la data del tuo matrimonio ha subito una modifica a causa della situazione?
Non ti preoccupare oggi vi volevo parlare proprio del RSVP/CHANGE THE DATE e della sua realizzazione. Vi avevo già accennato qualcosa nell'articolo precedente, se non lo hai letto recuperalo subito qui..
Per tutto questo tempo,siamo sempre rimasti in contatto con tutti i fornitori, proprio per capire l'evolversi della situazione e le azioni da intraprendere. Purtroppo anche noi non abbiamo la sfera di cristallo e non sappiamo quando tutto finirà, ci auguriamo il prima possibile. Nel frattempo cerchiamo di trovare le soluzioni per tutti i nostri clienti che si sentono dentro un vortice. So che state ricevendo tante informazione dai media, dall'amica, dalla cugina e dalla zia ma vi prego, e vi esorto, a rivolgervi sempre a un professionista del settore, che sia il vostro Wedding planner di fiducia o un fornitore. Tenetevi in contatto con lui e non date ascolto alle notizie sommarie, vi creerete stress per nulla. Una settimana fa mi sono sentito con Gloria titolare di Tuscan Lab ,nostro fornitore di fiducia proprio per l'immagine coordinata del matrimonio. Per me è stato amore a prima vista, Gloria mette una passione e un'attenzione nel suo lavoro da far impallidire chiunque. Ha un bellissimo stile creativo e  mi sono innamorato dei suoi lavori, sposando a pieno la sua filosofia. Tuscan Lab ha deciso in questo periodo difficile di venire incontro a tutti i suoi clienti creando un bellissimo progetto proprio per rispondere alla mia prima domanda "Gia consegnate le partecipazioni?"
CHANGE THE DATE. Per ogni coppia infatti realizzerà una card digitale che gli sposi potranno inviare ai propri invitati, per far sapere che la data delle nozze è stata posticipata e comunicare la nuova data con tutti i nuovi riferimenti. Il mio consiglio ovviamente è anche di valutare una realizzazione cartacea in coordinato alla WEDDING SUITE, un tocco di eleganza in più in un matrimonio non guasta mai.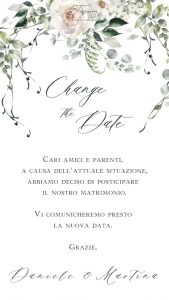 Per chi invece non avesse ancora consegnato le partecipazioni, suggerisco di rivedere almeno la card ufficiale, credo sia la soluzione migliore. Se invece si vuol puntare a qualcosa di più economico opterei su CHANGE THE DATE, anche per questa soluzione.
Insomma come ribadito anche nell'articolo precedente, tutto il comparto wedding in questo momento si sta stringendo intorno a voi cari sposi, quindi fate dei respiri profondi e chiamate la vostra persona di fiducia. Se non ne avete una e volete maggiori garanzie o semplicemente confrontarvi, contattatemi e insieme vedremo il da farsi, cercando di eliminare ansie e stress.
Qui di seguito vi inserisco anche tutti i riferimenti di Tuscan Lab, Gloria sarà pronta ad aiutarvi e consigliarvi al meglio a seconda della vostra necessità.
Tuscan Lab
Instagram @TUSCANLAB
info@tuscanlab.com
Un grande Abbraccio Fede